A social platform through big data survey found that many Internet users have insomnia, and even stay up late has become a daily routine, most people however can not sleep at 12 pm.
And in the big data, the most serious group of people who stay up late is the post-00s, accounting for 45.7%, sleep problems have become a daily focus. In fact, to improve the condition of insomnia, the most important thing is to create a comfortable sleep environment. Especially in the hot summer weather, it is difficult to fall asleep, how to build a comfortable sleep environment?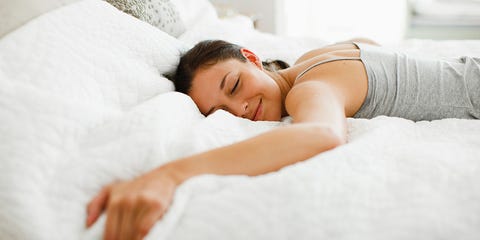 the bedroom light
Generally in bright places, the light will make people feel excited and stimulated, but to the soft light of the room, will make people feel comfortable and calm inside. Therefore, it is recommended that before going to bed, you can adjust the bedroom lights to soft, slightly dim, which will give you a psychological implication that you need to sleep immediately.
The eyeliner of the light is recommended to choose warm tones, such as pale yellow, which makes it easier to feel sleepy.
the temperature of the bedroom
In the summer, many people will turn on the indoor air conditioning particularly low, in fact, this is not conducive to sleep, it is possible that you will wake up in the middle of the night because it is too cold and freezing. Therefore, it is recommended that the temperature be adjusted to about 26 degrees, slightly cooler.
the smell of the bedroom
A bedroom with a smell is sure to affect sleep, and a fresh and pleasant smell will make people feel comfortable and relaxed. We can put some fruits in the bedroom, such as oranges, lemons, apples, so that we can better sleep.
Control bedroom noise
If the house is noisy, it will not only affect sleep, but also make people feel irritable. According to the survey, the noise suitable for healthy human sleep should be less than 30 decibels, if higher than this number, although you can fall asleep, but your deep sleep time will be reduced.
Humidity in the bedroom
Usually the bedroom to open the windows for ventilation, to avoid indoor humidity and bacterial reproduction. If you are in the south, when the indoor humidity, such as "back to the south", you need to open the dehumidifier, if the indoor dry need to open the humidifier.
Sleeping habits
Some people are used to sleeping naked, some people like to wear tight clothes to sleep, some people like to hold a doll, which is all right, according to their preferences, how comfortable.
Do not use electronic products
Before going to bed to watch pads, play cell phones, video games and other electronic devices will make the body mentally excited, can not promote sleep, not beneficial, so it is recommended that we do not use these devices one hour before bedtime, while reading a book, listen to some soothing music to brew the mood of sleep.
In fact, human sleep is a complex process that requires everyone to do the above to slowly improve. But if there is some psychological disorders, such as depression, anxiety, is the need for timely treatment, because improving the sleep environment does not solve the problem at the root